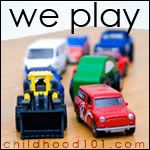 I have linked up with all the other Players over at Childhood101... Take a minute and see all the things you can do to PLAY!!!



We have been doing a lot of finish up work... tying up loose ends, practicing for our Spring Program, and creating those last minute things you need to create before you lose your kids to the summer or school. Here are just a few shots of what the kids have been doing in between all that....



Here is a toy that I had talked about a while back... the
Little Tykes Making Mud Pie Kitchen
. I was kind of surprised that people needed to get a toy to get back to nature. You can see that blog post
here
. Well, I received one from a parent that knows how much we LOVE the mud and I have to say, the kids love it!!! I wasn't so sure at first how much I would love it since it is not the best construction, the pump gets stuck when sand gets in it and the kids can't pump it very well, the top is one piece and to get it on, you slide it back until it's clicked, but it sometimes comes undone. Other than those two things... the kids LOVE it!!! Now, I also have 5 to 8 kids playing with it on a daily basis, and most people don't have that many, so it might hold up better with less children. I don't think it would be as much fun though, if you didn't have a few extra people to play mud pies with. All in all, it is a good outdoor toy. I do hope it holds up like the rest of our Little Tykes toys.
We experimented with water yesterday. One of my older sons decided to freeze a golf ball in a cup of water, he took it out yesterday for the daycare kids to see and they were quite impressed!! They ran off to get their cups and filled them with water. We didn't have enough time to find something to put inside the cups (it was pick up time) but that didn't deter the kids. They filled their cups up, popped them in the freezer and today this is what we found. One of the kids ice froze kind of away from the sides of the cup... it was neat. After nap we are going on a hunt for items that we can freeze and then take them outside tomorrow to let them melt in the sandbox. Can't wait!!!
We also got out this great game!! Operation!! I love how now it has different levels, the sides aren't so sensitive on level 1 as level 2 and the lightening bolt level is most sensitive. Fun Times! I think it was both practicing our fine motor skills, and hearing that zapper going off that was most fun. They loved putting them back in and trying again.
So, we are having fun, running around, getting wet, and just being Kids this week!! LOVE IT!!