I was so looking forward to doing some work inside today, then getting out in the yard and messin with the mud puddles that are drying up. But it rained AGAIN last night!!! My yard is so full of mucky mud, that I can't even let the kids play in it. They would look like a bunch of Mud Wrestlers when they came inside, and even I am not into having that much muddy fun :)
We Went To The Park Instead!!!
This is our neighborhood park. It is very nice, we have some nice equipment and they installed some swings in the Fall. Although, the swings are so high off the ground that young children can't get on without help. My stance on that is, if you can't get on yourself, then you can't go on. I don't have to worry about Little Miss M because for some reason they didn't put any baby swings in, go figure!!! We like to get on with her and swing with her on our lap... we called it the butterfly swing when I was younger.
There are climbing parts, sliding parts, swinging, and tunneling. So it is an all around nice park.
Who says you can't get Fine Motor Work done at the Park??? Who ever said it, has never met these two friends :)



My friends were sticking the little pieces of mulch through the holes on the platforms... ingenious they are!!!
Here are the girls trying to get on their swings!! They were laughing and giggling, until they finally got on. I don't have a photo of that one, because after they finally got on, and I gave them each a push, I was called to help clean some wet slides.
Now, this beautiful Park is great, for awhile!! Believe it or not they get bored after just a short time. Unless other kids show up, or I pull balls or toys out of hiding they get bored. Today was no exception. After a few "I'm bored" and "Go and Play or were leaving" exchanges, I realized that they had ventured off the mulch into the grassy area surrounding the park. They had found the TREES!!!
Let the climbing commence!!!
We put all our effort into mastering this skill, and climbing up as far as possible.
One of our Mom's was driving past and only saw her son running around. It took her a couple seconds to locate myself and my best friend, but she couldn't see any other kids. I felt like the Von Trapp Family, where the kids are hanging out in the trees when the Dad drives home with the new girlfriend.
But with all that expensive play equipment... what do the kids eventually gravitate to?? The natural parts of the playground, the grassy area to run, the trees to hide in or climb on, and the woodsy area to look for bugs and insects. It was a nice morning :)
We decided to link up to Childhood 101, in their We Play Post!!! Check it out to see all the wonderful things people do all over the world!!! Play is Contagious!!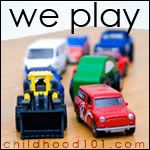 ********************************************************************************
My favorite photo of the day... How can that be comfortable??? This was the way Little Miss M fell asleep today. I must have moved her back up 3 times, but every time I would look, she would be hanging off. She was asleep the whole time. To cute!!!